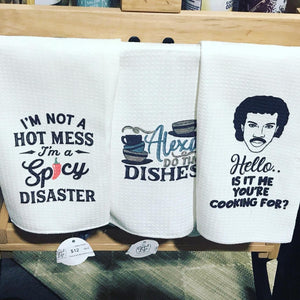 This post is for ONE towel.  Please use drop down to specify which towel you would like to purchase.

Microfiber Waffle Weave Towel 16'' x 24'' 
80% Polyester, 20% Polyamide

Looped Microfiber, Waffle Pattern

Lint Free

300GSM (Professional Grade)

500x Washable

Cloth Weight: 25 Grams

The microfiber waffle weave is very commonly known throughout the microfiber industry. It is called a waffle weave because the towel has raised looped edges on the surface of the towel in the shape like that on a delicious Belgium Waffle. These "pockets" that are created hold water while the surface of the cloth stays dry making it an exceptional drying towel! The raised looped edges on this lint free towel make it great for all around use, while also being great on glass. Like other looped microfibers, they have an extended life compared to unlooped microfibers. This product is most commonly used in the automotive, cleaning and medical industries, however, they make excellent dish towels for home use too!